Adam Turman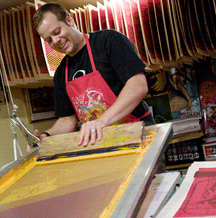 I illustrate, design, and screenprint stuff. I've been doing this since about 2003.
Actually, let me back up. I've been drawing ever since I was about 18 months old
(at least that's what my mom claims). I like to believe that's true. Creating stuff
has always been important to me. Let's see, I made a sweet pirate ship out of a
refrigerator box when I was 4, Ghostbuster costume with working backpack for
candy when I was 10, and my first T-shirt design that was "produced" when I was
14 for a 9th grade party, that was sweet. The T-shirt thing was a turning point.
I realized I could make stuff that many people could have, not just one.
I went to school for 6 long years to get a degree in graphic design, and eventually
become an illustrator with a full time graphic design job. I'm keeping those benefits,
know what I'm saying?
Ok, this is kinda where I started. I began concentrating on my illustration and painting
in 2003. I've taken up screenprinting and produce gig posters and art prints for music
venues and art galleries all over the Twin Cities along with other various venues around
the nation.
During these last few years, I've met a lot of great artists and designers who have inspired
me in many ways. It feels good to be a part of such a vibrant art scene in the land of sleet,
snow, and hotdishes.
Along with making gig posters, I also create art for CDs, T-shirt designs, and other
graphic-y stuff for various bands, music venues, record labels, clothing companies,
fellow artists, and collectors. You can see more of my work hanging up around town,
in people's houses, my basement, and on on this site of course.
18x24, Signed/Limited Edition Screenprints on 140lb index $40 unless Noted.
All artwork copyright 2012 Adam Turman
Cannot be used in anyway without written permission from Artist
NEW Images and New Editions of Old Favorites
*Colors on webpage may not be accurate to prints*
Uptown Theater 2

$40

Serving It Up

$40

YouBetCha

11 x 14

$20

Death Biking

$40

Grain Belt 3

Red

$40

Gold Medal 3

Blue

$40

Great Beer Sold Here

$40

Hotdish 2

11 x 14

$20

Pillsbury 2

Brown

$40

Bars, Bikes and Beers

(2nd edition)

$40

Lyndale Park Rose Garden

$40

The Sunken Garden

(St. Paul's Como Park Conservatory )

$40

Dinkytown

$40

Mpls Bike Tour

$40

Ritz Northeast

$40

Duluth Lighthouse and Lift Bridge

$40

Gold Medal

(Teal)

$40

Grain Belt Sign

(2nd Edition)

$40

Minneapolis Ferry

(on Lake Minnetonka)

$40

PPC 406

(2nd Edition)

$40

Milwaukee Road Depot

$40

St. Anthony Main

(Same as Stone Arch Fest '07 but without tagline)

$40

Varsity Theater

$40

Bars, Bikes and Beers (Artcrank 09

1st edition)

Sold Out

Being 11

Sold Out

Commute Mpls

Very Limited Quantity

Eat Locally

Sold Out

Other Available Images

Foshay

$40

Gold Medal (Blue)

$40

Minnesota State Fair

$40

Hiawatha Line

$40

Cycle Northeast

$40

Grain Belt Brewery

$40

Grain Belt Sign (Red)

2nd Edition

$40

Grain Belt Sign(Orange)

1st Edition

SOLD OUT

North Star Blankets (Green)

$40

North Star Blankets (Split Fountain)

SOLD OUT

PC 406

1st Edition

SOLD OUT

Schmidts Brewery

$40

Sears Building

$40

Pillsbury

3rd Edition

$40

Uptown Theater

$40

Washington Ave Bridge with the Weisman Art Museum

$40

First Ave (Brick by Brick)

$40

Cycle Minnesota

$40

Cycle Minneapolis

(2nd Edition)

$40

Sold Out

(3rd Editon Now Available)

Trolley and Bandshell

$40

Scandia Chapel

$40

Cycle Twin Cities

$40

Gold Medal (Green)

2nd Edition

$40